Return to Goat Island 2019
Return to Goat Island 2019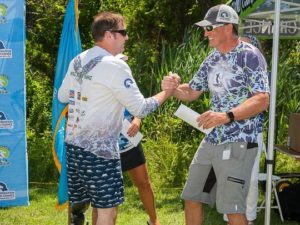 Paddle Second Chance and Return to Goat Island
Combining Two Great Paddle Events for One Amazing Cause
Snow Hill, MD
– January 13, 2019 – In the sport of paddle boarding, it's not all about who wins
the race. It's about bringing people together for a beautiful outdoor activity, the welcoming
atmosphere, sharing in the struggle and triumph of the course, and experiencing the exaltation
when racers cross the finish line. The camaraderie motivates paddlers to train harder, go longer,
and push their fellow racers through previously unforeseen limits. Those involved with the sport
do it not only to help themselves, but to help others on and off the water. Now two premiere
paddle events will join forces to help wounded warriors and their families in Delmar.
Over the past seven years Paddle Second Chance has raised more than $200,000 for Operation
Second Chance, a non-profit organization dedicated to serving wounded veterans and their
families as they recover and transition back to civilian life, including over 40 families from the
Delmar region. In 2019, Paddle Second Chance will join forces with Walk on Water, combining
two great events for one amazing cause, and host the Return to Goat Island Paddle Festival
benefitting Operation Second Chance the largest paddle board, kayak and surfski race in the
Delmarva region.
Walk on Water www.walkonwatersupco.com is a premier stand up paddle board shop located in
West OC, Maryland, offering everything from sales and rentals to group excursions, lessons and
SUP Yoga
.
For the past 3 years, Walk on Water has sponsored the family-friendly paddle festival
to celebrate the paddling lifestyle. The highlight of the event is featuring a race on the Pocomoke
River, open to all forms of paddling: SUP, kayaks and surfski. The festival features live music,
great food and beverage vendors, yoga demos, children's activities and Shad Landing and
Milburn Landing riverfront campgrounds located in close proximity to the race area. There will
be a party-like atmosphere for those also not wanting to paddle but still
paddlers and supporters wanting to enjoy a great time outside with family, friends and community