The horn sounds.
You jump from the water onto your board and start paddling hard. The wakes build from your surrounding paddlers making it difficult to stand upright as you push ahead.
Even though it's early in the race, your arms burn as you push your body towards new levels of stamina.
You reach the first buoy turn. It gets crowded, but you trained for this. Stepping back into a surf stance, you push the tail down, nose up, and flick your paddle in the water.
The nose of your board turns quick, you make it out in front of the pack and with two quick jumps forward, you're back in the correct position and paddling hard.
The race here is long, it is difficult, but through it all…
It's rewarding.
You're in the best shape of your life. You're surrounded by a community of supportive paddlers. And most of all, you're having fun.
This isn't your first race, but you're glad you decided to give this sector of SUP a try.
…
SUP racing is a popular part of the stand up paddle boarding community. Over the years, it has grown from backyard races to the world stage (coming soon to the Olympic games!).
And it is one sector of SUP that not many people feel open to trying. This might be because of the perceived competitiveness, the long distance races, the grueling paddling, or maybe just being intimidated by the scene.
But we're here to tell you — that couldn't be farther from the truth.
SUP racing is one of the most rewarding parts of paddle boarding. It is an exciting opportunity to grow as a person and in the community.
That's why, in this article, we want to explain why you and your paddling friends should consider 2022 the year to give SUP racing a try!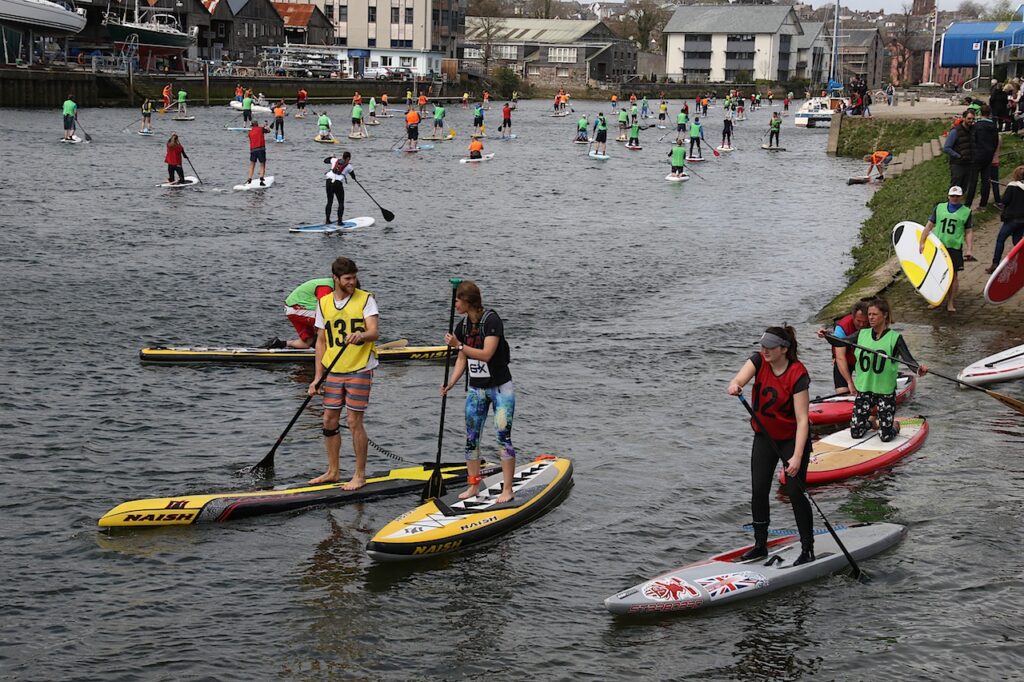 Fitness
The first (and obvious) reason to start SUP racing has to do with your health.
Exercise is important. In fact, according to current health experts, it's the one way we can increase our health and longevity beyond diet or sleep.
It's so important that many people who don't exercise daily happen to age more rapidly than those who do.
A leisurely SUP paddle can be a great way to get your daily exercise in, but it isn't enough to meet the exercise requirements needed to slow the aging process.
For these important factors to kick in, you will need to raise your heart rate, burn a certain amount of calories, and increase your cardiovascular output during movement.
To achieve these important markers on the water, you'll need to train for your first race.
You can do this by going on long distance paddles for time or sprints in the flat water. By doing these two forms of exercise you will achieve a higher level of fitness than if you just went for slow paddles.
In addition, SUP is a low-impact exercise. It won't wear out your joints like you would experience running, jogging, or even lifting weights.
This means you can use SUP as your daily exercise routine without any negative consequences.
By training for your first SUP race you will get into the groove of using SUP as your daily form of exercise and the by-product will be…
You'll get into the best shape of your life!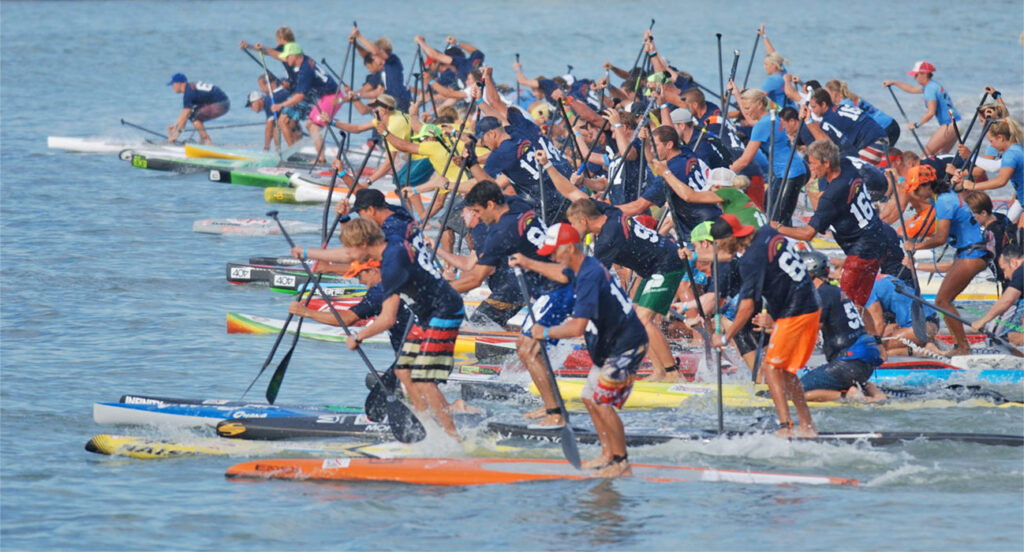 Community
When people think of racing they think of high-competitiveness, winner-takes-all attitudes. While this way of being might be the norm for other forms of racing, this is certainly not the case when it comes to SUP.
With SUP, there is a built-in community that is supportive of all those who are interested in the sport.
By holding this attitude, races around the world are all-inclusive. You will see people rooting for their fellow paddlers more than trying to crush them in defeat.
We mean this literally. At the finish line it is not unusual to see the finished racers standing near the end pushing those left to finish strong before they reach the finish line.
It is important to remember with a community like this, you will always be welcome to compete in a race no matter your experience or abilities.
If it is your first few races you can consider it a race against yourself. See how far you can push yourself and during the next race, see if you can beat your time.
Really it's all about boosting each other up on and off the water and you will experience that on your first time out.
Fun
The actual paddling might be difficult. It might be grueling. And if it's windy, you might want to quit. Buy at the end of the race when you've crossed the finish line, you will be all smiles.
How do we know?
Because this is always the case! No matter the race or the conditions, everyone is really there to just have some fun.
And the best part is, after the race it's not unusual to see paddlers enjoying themselves with a few drinks, a ton of laughs, plenty of paddling stories and live music and local vendors provided by the race organizers.
Once the race is complete, the atmosphere changes to a party. And we're all here to just have some fun under the sun.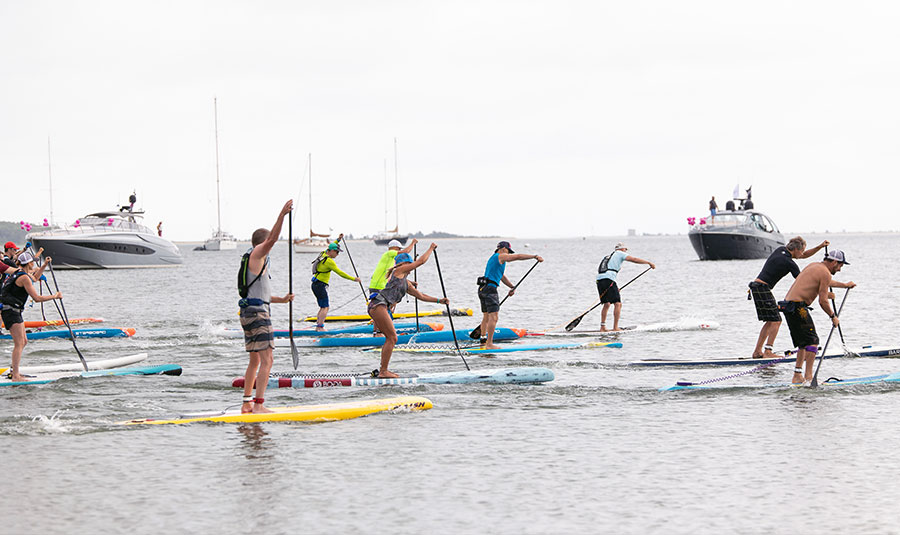 Achievement
Do you remember that feeling when you finally accomplished a goal?
That excitement. The joy. The feeling of peace and achievement. Well picture that feeling and multiply by ten. That's how you feel when you complete your first SUP race.
Why?
Because a SUP race is difficult. It pushes you to become something you weren't before. It forces your body to extend itself past its limits and become stronger.
And all of these combine to create a true feeling of achievement when you finish the race. Often, this feeling propels you to train harder and improve your times in the next race.
If you're missing that feeling of true achievement in your life, it might be time to give your first SUP race a try.
Ready for Your First SUP Race?
At Walk on Water we're involved in the local Maryland racing scene. For your first SUP race we recommend signing up for one of the following (or all of them!):
There you will be greeted with a group of friendly paddling and fitness fanatics ready and willing to get you on the water and experiencing the feeling of completing your first SUP race.
Of course, if you have any questions or comments on SUP racing in general or any of the races, we'll be happy to help you out. Send us a message at anytime and we'll get back to you as soon as possible!