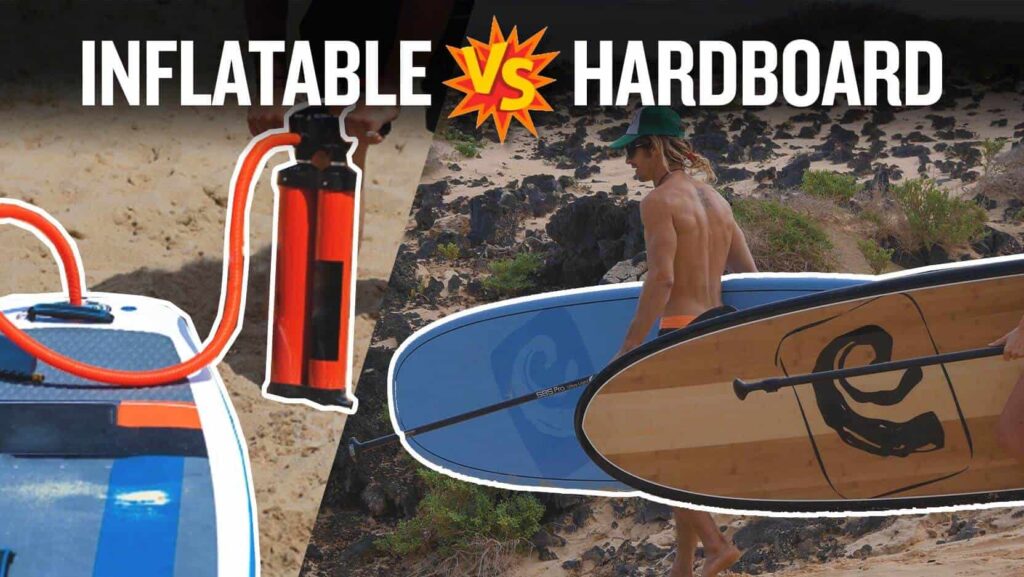 When it comes to purchasing your first board, there is one question you need to answer before you decide on a brand — should you buy an inflatable board or a hardboard?
Over the past few years, inflatable boards have come to dominate the SUP industry.
The reason for the prominent rise is mainly due to the increase in heavy-duty materials inflatable boards are now created with. Instead of a thin vinyl material, they are now crafted with a heavy-duty, military-grade pvc vinyl that is almost indestructible.
Even so, not everyone needs an inflatable board. And in some instances, it's the opposite of what you would want given the environment and activity you're interested in when it comes to SUP. 
In order to help you decide on what board works for you, we're going to discuss the main differences between an inflatable board and a hardboard, and what will work for you.
Cost
The cost between a hardboard and an inflatable board is comparable. That is, unless you decide to purchase a board from Amazon or Costco.
First, we need to caution you against such a purchase. These boards are typically low-end in quality and will not last past a season or two.
This is especially the case when it comes to inflatable boards. The ones offered by Amazon and Costco that range in price from $250-$350 are made of cheaper materials that are prone to tears, leakage, and in the case of a hot sun, air bubbles.
If you do go this route, just know that you may be purchasing two boards. Your first inflatable board followed by a second one only a season or two afterwards.
What you want to do is pay a little bit more upfront so you will have a board that will last for multiple years.
Typically, a good inflatable board will range from $599-$999. Hardboards can range from $999-$1499 depending on the materials they are made out of. If you purchase a fully-carbon hardboard you're looking at a board that might be around $1999. Again, this can vary depending on the manufacturer and materials.
Just know, to get a good board that will last, the cost between an inflatable board and a hardboard is comparable.
Portability
When it comes to portability, there is a clear winner here — inflatable boards.
While you can easily place a hardboard in the back of your truck or on your roof racks for transportation, it is much more difficult to take your board on extended trips if it's a hardboard. 
In comparison, an inflatable board is easy to deflate, roll up, stick into its carrying case, and take with you wherever you need. This can include your local body of water, or across the world to some foreign launch location to explore with friends. 
If you desire to own a board that you can throw in your trunk or check onto an airplane, an inflatable board is the choice for you.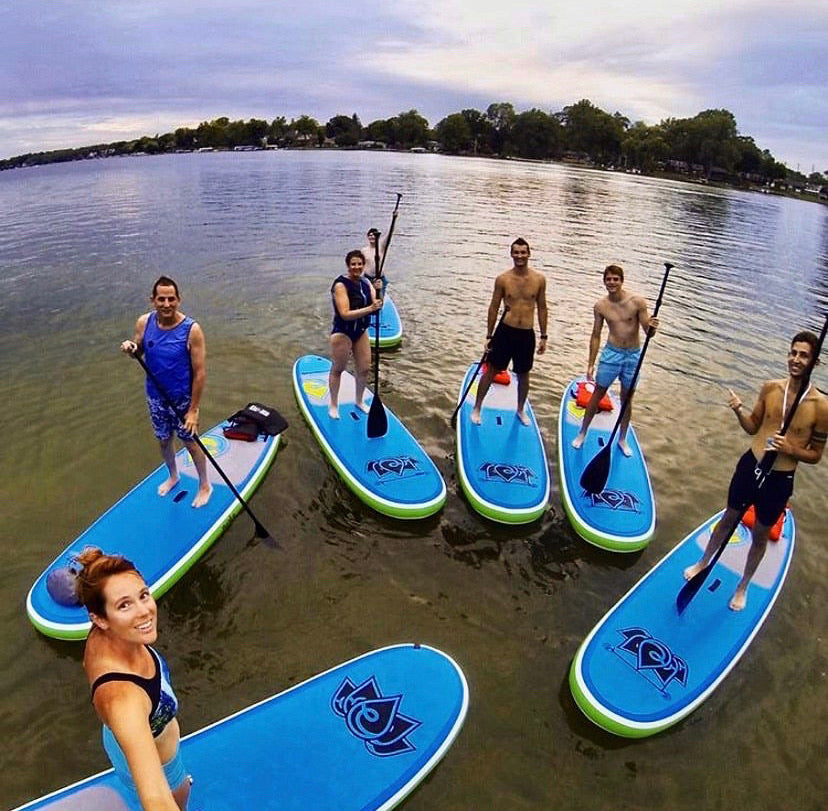 Storage Space
Again, no contest here. 
If you own a hardboard you need plenty of garage space to store it when you are not on the water. You cannot leave a hardboard outside in the elements as it will wear down at a quicker rate.
This can include time in the sun which can wear out the deck pad, fade the paint, and can even cause delamination (a process that happens when the epoxy that holds the fiberglass to the foam core melts and you get bubbles on the deck or back) which is a costly repair.
If owning a hardboard is your choice, then you need the storage space to accommodate boards ranging from 10'6'' up to 14'.
However, contrary to hardboards, inflatable boards can be easily rolled up, placed inside their carrying cases, and stored away for the winter in a small section of your garage or even in a closet inside your house.
If space is a premium, inflatable boards are the way to go.
Durability
Contrary to popular belief, some high-quality inflatable boards are actually more durable than hardboards.
These types of inflatables are often used in whitewater river paddling. Their strong material is perfect for bouncing off of rocks, sticks, or other debris with ease.
In addition, inflatable boards are better for beginners as they can fall on the deck of the board without causing any damage — to the board or themselves!
When it comes to hardboards,  unless they are made out of the molded plastic like the Evolve Rhino Skin, they can oftentimes be less durable. 
This is due to the materials with which they are crafted. Fiberglass, bamboo, epoxy, and carbon fiber are all strong materials. However, if you fall on the board when paddling, bump it into a sharp point or edge of the dock, or accidentally drag it along the parking lot, you will cause cracks to the rails or the surface.
And you will have to repair it.
If you are a true beginner, clumsy, or want a board that can take a little extra beating, an inflatable board is right for you.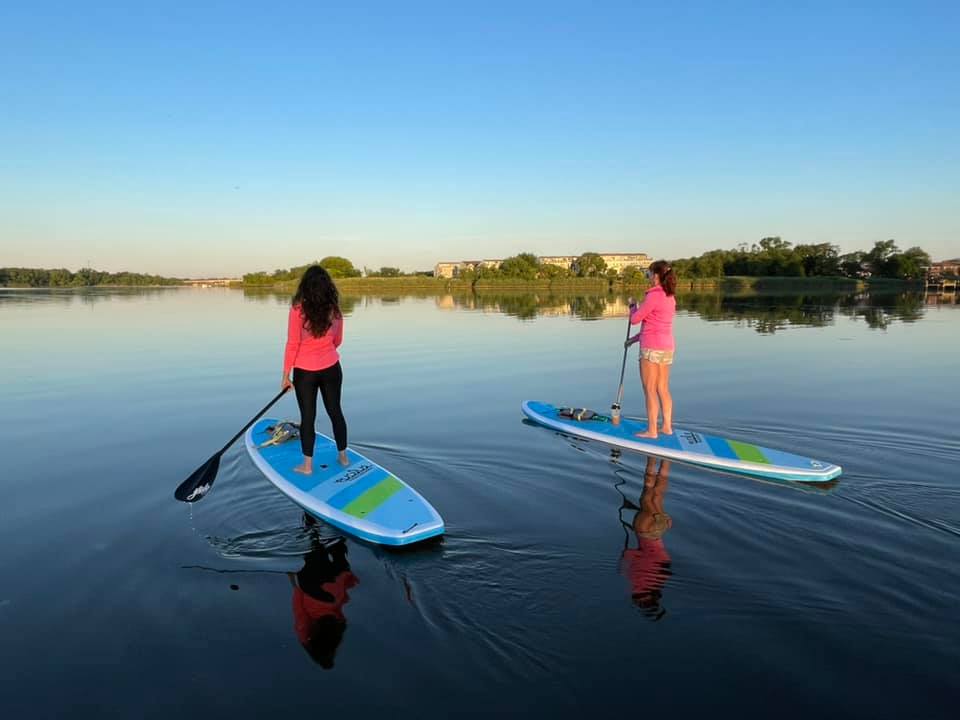 Performance
At this point, you may be thinking, "Why would anyone want to buy a hardboard?"
It's true, it seems like inflatable boards are winning out. But this is one of the biggest deciding factors when it comes to the differences between the two. 
And that difference is performance in the water.
Hardboards outshine inflatable boards when it comes to tracking (the distance a board travels after just one paddle stroke), speed, turning, surfing, racing, long distance paddling, whatever metric you want to use…
When it comes to time on the water, a hardboard will always paddle better than an inflatable board.
This is mainly due to the foam core and hard surface. It cuts through the water at a better rate than that of the air core inside an inflatable board. 
In addition, they often have less volume which helps the hardboard to sit lower in the water – increasing glide as well as the ability to not be affected by the wind or the waves.
So, if performance is your number one metric on the water — especially when it comes to SUP surfing or SUP racing — a hardboard is the choice for you.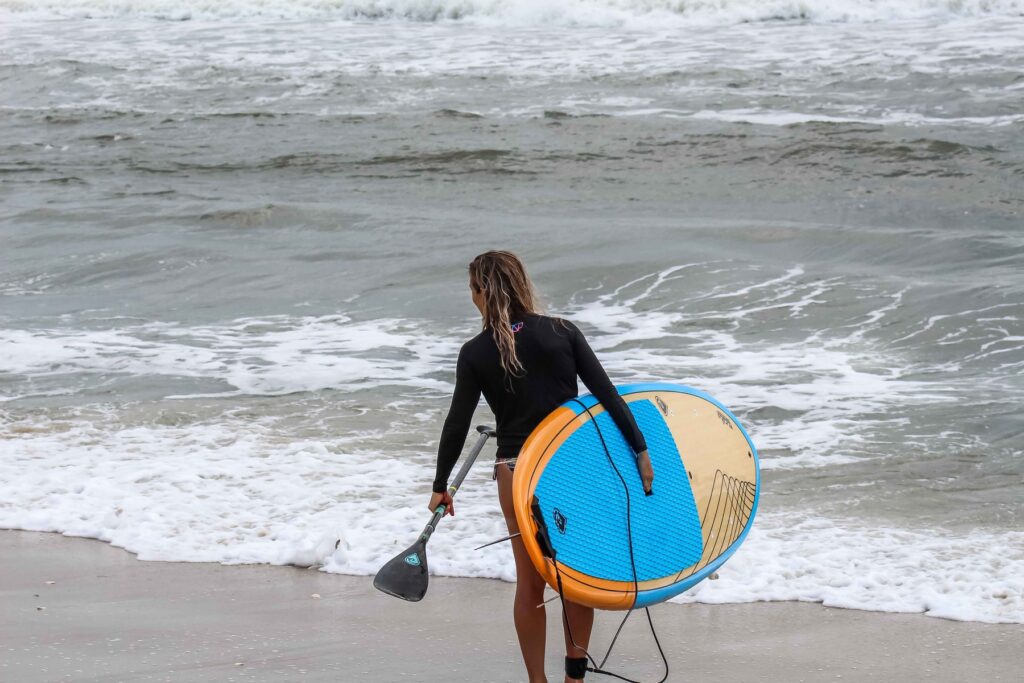 SUP Activities
As we've already alluded to, a hardboard or an inflatable board is also better when practicing certain SUP activities.
We'll do a quick rundown…
SUP surfing — hardboard for much better performance 
SUP racing — hardboard for the same reason
SUP touring — hardboard for the same reason
SUP yoga — a bit of a tie. You can find inflatable boards perfect for SUP yoga as well as hardboards like the Evolve Roots Yoga SUP. It depends on the performance you're looking for when not practicing yoga. If you want a board that paddles well for long distances, a hardboard would be a better choice. 
SUP fishing — while there are some great inflatable fishing boards, the idea of sharp hooks and inflatables often does not mix. We would prefer a hardboard here. 
SUP with your pup — contrary to popular belief, an inflatable board is often the better choice. Your dog's nails are not sharp enough to puncture a high-quality inflatable board, and they are not as slick compared to a hardboard. This makes it a better platform for your dog to stand on. 
Exercise — tie. You can get a great workout on either an inflatable board or a hardboard. 
Travel — inflatable board for ease of packing. 
Conclusion
When it comes down to it, the main difference between an inflatable board and a hardboard is completely contingent on how you want to use your board.
However, if you're looking to get a board that will serve more purposes over the long run — such as paddling flatwater for distance, SUP surfing, SUP yoga, exercise, etc. — a hardboard will work just fine for you.
But, if you're a true beginner who needs a soft platform to learn, you don't have the storage space (maybe you live in an apartment complex), just want to cruise flat water, and want to travel with your board, an inflatable board is the best choice for you. 
We hope this short breakdown helps you decide whether an inflatable or hardboard will suit your needs.
Still not sure what will work? Send us a message! The team at Walk on Water is ready to help you pick out the best board for your needs and we'll guide you step-by-step through the entire process!