One of the interesting aspects about stand up paddle boarding is the way you can enjoy the activity in multiple ways. 
From SUP surfing, to SUP yoga, to flat water paddling, white water river paddling, and more, it seems like there are endless ways to enjoy the activity you love.
Recently, one of the fastest growing subsections of SUP happens to be SUP fishing. This activity can be a great way to connect with nature, spend time in solitude and silence, and secure a nice dinner for you and your family.
But how do you start? And how can you be sure you'll land the big one while on the water?
Today, we're going to cover the ins and outs of fishing on your SUP. From grabbing the right gear to a few beginner tips that will ensure your success on the water. With the advice given here, you may not catch the biggest fish in the sea, but you're guaranteed to have a fun and safe time on the water while you try.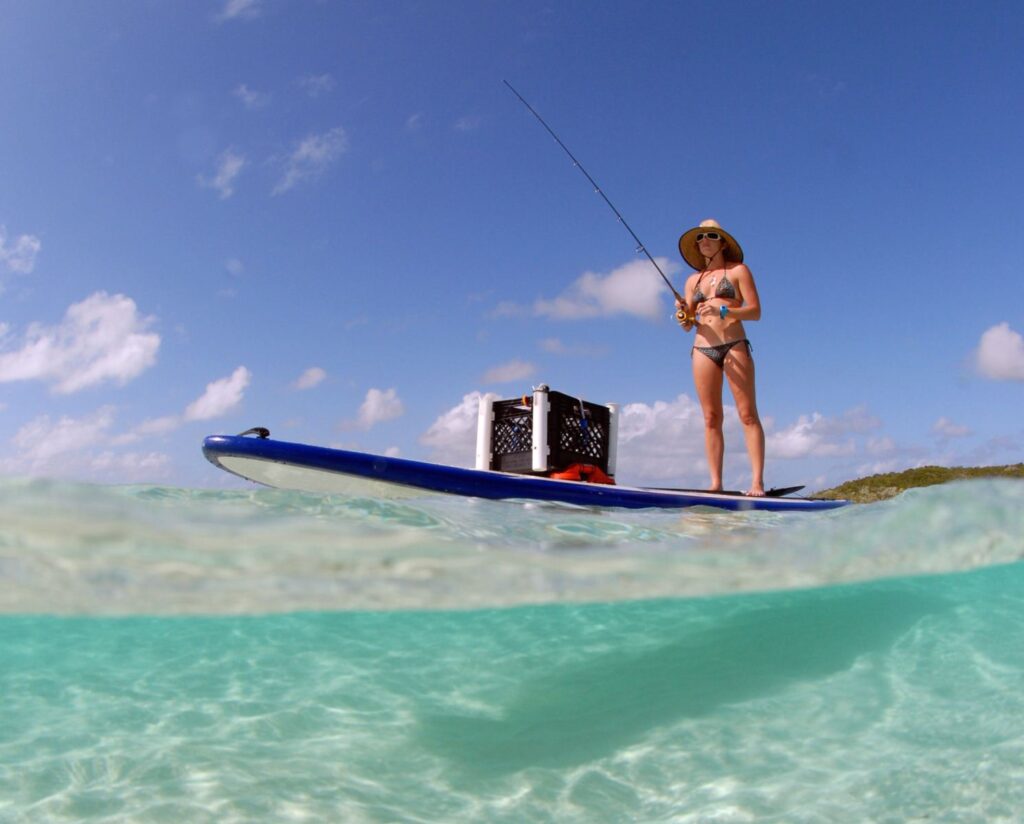 Why a SUP is a Better Choice than a Kayak
In the watersports industry there has been a growing debate – SUP vs. Kayaks. Each vessel is fun and useful in their own right. And there is a large community of kayakers who use theirs for fishing.
It can be a great way to get on the water and cast a line.
However, there are some obvious positives to fishing on a SUP that you can't experience on a kayak.
Point of View
As the name states, you generally stand on a stand up paddle board. And while this might seem like a minor detail, when it comes to fishing it can be a major one.
Instead of being low on the water as you are in a kayak, while paddling a SUP you are high up and have a better point of view. This can lead you to see where the fish are, better places to anchor, and where to cast your line – all very important factors on whether you will successfully catch a fish or not.
Maneuverability
In addition to an improved point of view, you also have the option of easily maneuvering the board itself into tighter spaces, or simply hopping off your board and walking it through the water, or swimming with it.
You can of course do this in a kayak as well but the chances of tipping over a kayak with all of your gear on it are greatly enhanced. Especially where it is difficult to determine the centerline of the vessel.
On a SUP, you know exactly where you will remain stable by keeping your feet where the handle is on the board. This is the dead center. And it is the ultimate place to walk around and jump off from without tipping over your board and spilling your gear.
Transport
Last, it is much easier to transport a SUP board than a heavy kayak. A fully molded plastic kayak is a heavy piece of equipment. Often it requires two people to lift into a truck or strap down to the top of a car.
With a SUP board, you have the ability to toss it into the bed of your pickup, tie it to your racks, or simply roll it up and throw it in its carrying backpack if you choose to go the inflatable route.
When it comes to transportation, you can't beat the ease of a SUP.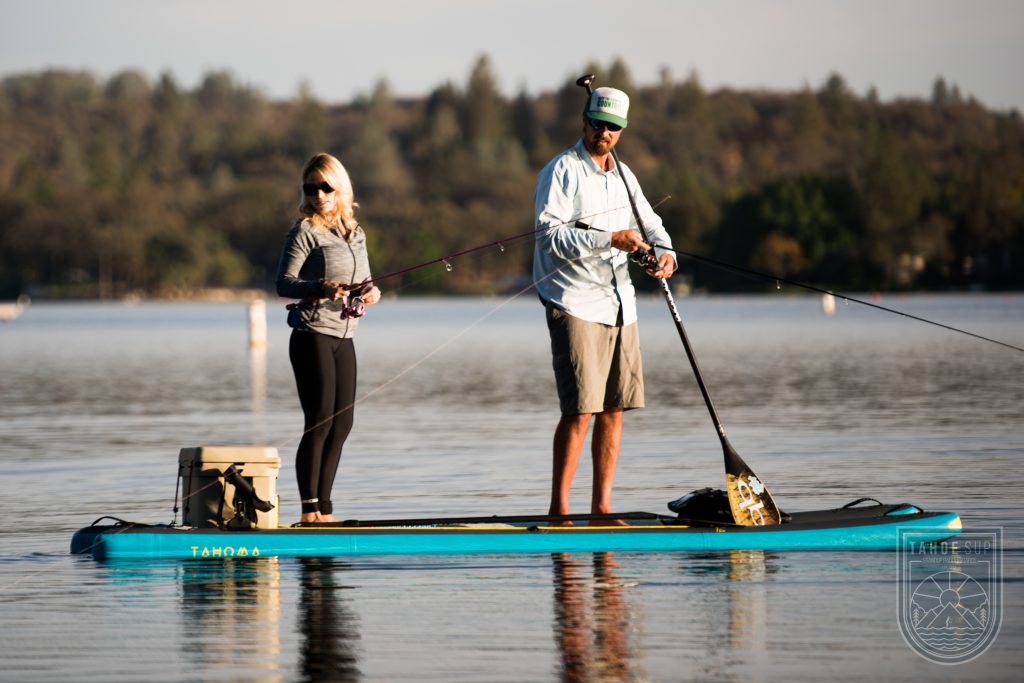 Grab the Right Gear
To be successful on the water, you need the right gear. Use this as a short checklist of essentials before you head onto the water. As you gain experience, feel free to add to eliminate anything on the list.
Board
This is the most important piece on the gear list. Simply because if you choose the wrong board, you're in for a miserable time.
Most beginners think a regular cruising SUP will work. Unless you are a tiny person, say under 120-130lbs, it won't work. There will not be enough volume in the board to float you and your equipment.
Luckily, there is a remedy. Most major SUP manufacturers are creating boards designed specifically for SUP fishing. And they usually work great in regular flat water paddling too.
What you want to look for in a board is plenty of thickness to the rails to increase the volume it can float. This is to ensure you can carry all your gear without having float issues. And a wider base to increase your ability to balance while you cast and reel in a fish.
For example, Evolve makes two boards – the Guide Series and the Big Fish.
Both boards are designed with thicker rails and with a wider base. The Guide Series is shaped more like a touring series board to increase the ease with which you can paddle long distances. And the Big Fish board is an oversized board for shorter paddling trips with the ability to carry as much gear as you'd like.
In addition, they both come with Connexsup attachments making it easy for you to outfit your board with poles, tackle, GPS, and more!
Just remember, when you're in the market for a SUP fishing board, make sure it is rated for at least 300lbs and has a wide platform for ease of balance. You don't want to fall in right when you are about to secure the prize!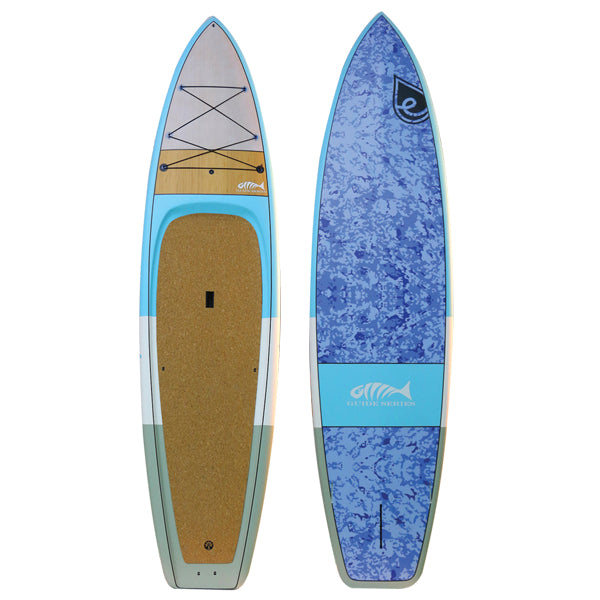 Paddle
When it comes to paddles, we're highly in favor of fully carbon fiber. The lightness and ease of use are just unparalleled compared to fiberglass or aluminum paddles. However, for this instance, any paddle will do. As long as you don't have very far to paddle. For shorter distances taking a cheaper aluminum paddle will work just fine. This is because you're mostly focused on fishing, not paddling. But for those long distance paddles to get to the right spot, we highly recommend a fully carbon one.
Rod Holder
As we previously mentioned, on the Evolve Fishing Series boards, you can place rod holders right onto the board with the Connexsup option. However, if your board does not have this option, the next best place to put your rod holders is right on your cooler.
Cooler
With a cooler you'll be able to keep your food and drink cold for the duration of your trip. And it can be a great place to put your catch if you plan on staying on the water for a while. One recommendation we have though is to grab a strong hard cooler like the ones built by Yeti. Why? It doubles as a seat while on the water!
Anchor
Without an anchor, you're going to drift. With an anchor, you'll be secure right where you want to be when you cast out your line. Always use an anchor.
In order to pick out the correct one, pay close attention to the design, weight, and the length of your rope. The grappling anchors usually work the best. But to avoid damage to your board, always grab one that folds the hooks when storing onboard.
Leash
When on the water, your SUP is the biggest flotation device you have. And it carries all of your important (and expensive) gear! By wearing a leash, you make sure you remain attached to it at all times and never lose it to the wind or the current.
PFD
In many locations around the world, a SUP is considered a vessel. This means you need the appropriate amounts of life preservers on board at all times for the number of people on the vessel. Since you're likely to be fishing solo, you will need a flotation device either on your person in the form of a belt pack PFD or stuffed underneath the bungees on the front.
This is an integral piece of gear for your safety – always make sure you have a working PFD with you at all times.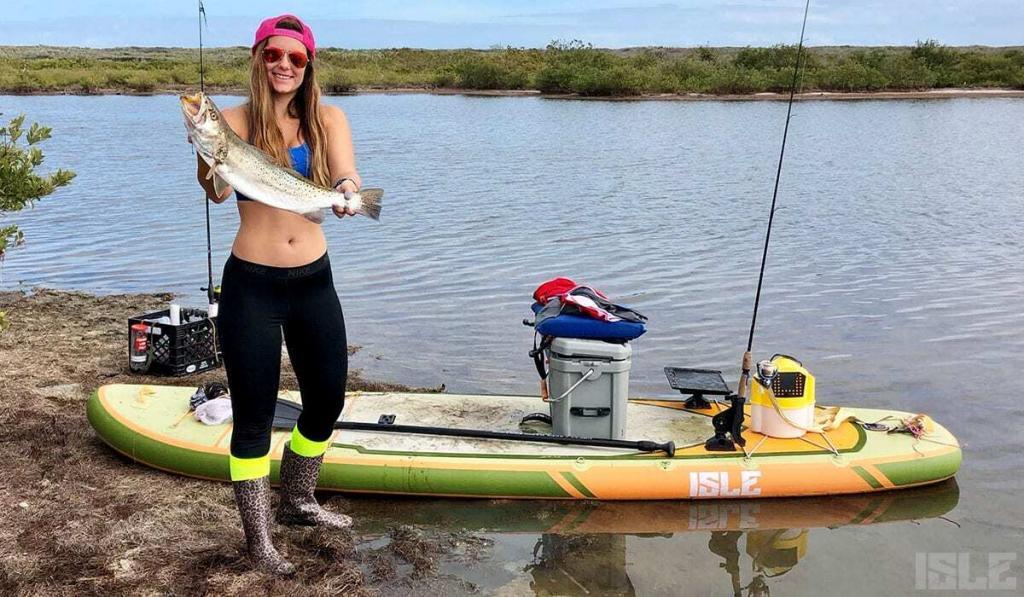 Tips to be Successful
While we can't guarantee you'll catch a fish out there, we can guarantee a great time if you follow these simple tips on your first SUP fishing trip.
Get Used to Your Board
Before you load your gear, pack your tackle, fill up your cooler, what you should always do first is get used to your board.
Take it out on a calm sunny day and just paddle. Feel how it maneuvers around the bay. How it feels against the wind. Practice anchoring it up. Basically, understand how your board reacts in the water and how you feel while on top of it.
This is a great way to spot any potential fishing locations as well!
Secure Your Paddle
On your first trip out, you're likely to be full of excitement. And for good reason. You've invested time and money into an activity that will increase your health and overall wellbeing. You paddle to your spot, drop anchor, and cast your first line. After a few minutes, the line snags and you get a bite!
You start reeling in frantically, pull up the fish, and look at your catch. It's a fantastic feeling. But what you forgot to do was secure your paddle. And in your excitement it has drifted down current. And now you're left with just your arms to propel your heavy board with all your gear to grab your paddle.
Avoid this simple beginner mistake by securing your paddle first, even before dropping anchor.
Plan Your Entrance and Exit Point
Most SUP boards are durable. But they're not indestructible. This means you can't drag them across rocks or up slopes or even through the woods without the potential of banging it up. To avoid any costly repairs, always plan where you're going to drop in. And where you're going to exit from the water.
The best places are kayak launch spots or even boat ramps. These are usually easily accessible and free to the public.
Pack Only What You Need
When it comes to fishing on a boat you can take with you whatever you please. But on a SUP board, you need to take special note of weight and room. This means you can only carry the essentials. Nothing more and nothing less.
One good piece of advice is to do a dry run while you're at home. Pack your gear and cooler, put it on your board and see if everything fits. You can also calculate a rough estimate of the weight you might have to carry while on the water too. This will ensure your board floats properly during your time SUP fishing.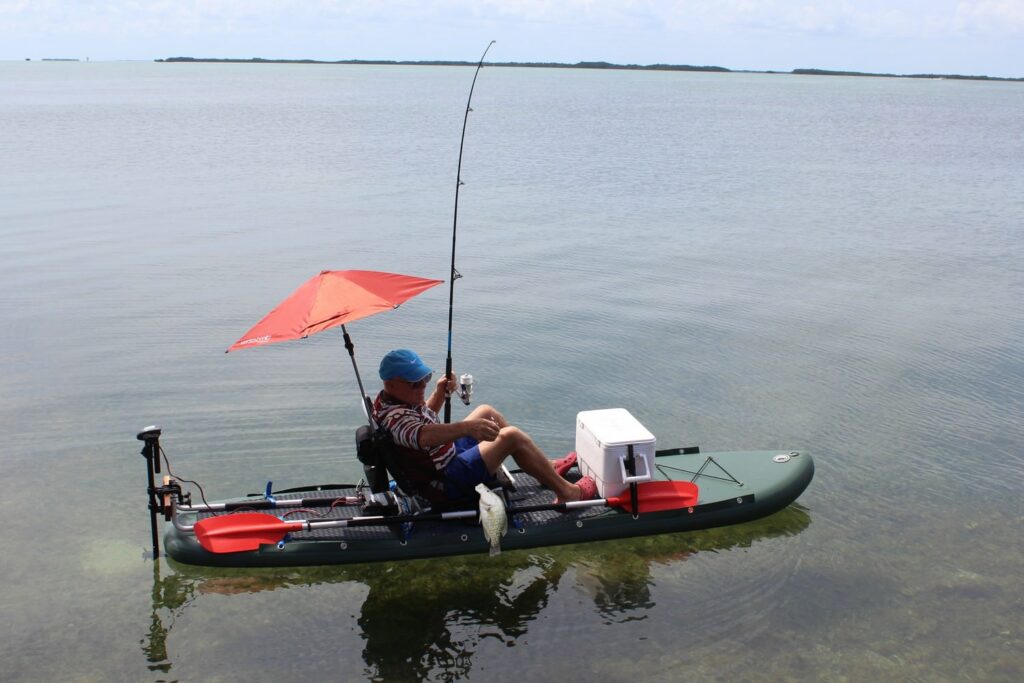 Conclusion
Are you excited to give SUP fishing a try? Then come into Walk on Water today to see the best gear at the best prices. We'll help you get outfitted in the right way. And like we already stated, we can't guarantee that you'll catch anything. But we can guarantee you'll have a great time while trying.