On the weekend of February, 14th-16th Walk on Water participated in the #1 inside boat show on the eastern shore- and it was a fantastic success! This year's show was the most popular to date with around 2,600 people in attendance each day. With the large attendance Walk on Water was able to expose a whole new audience to the growing sport of standup paddleboarding- and we were happy to welcome as many people as possible to our booth!
As part of attracting new customers to the sport of SUP who are also involved in the boating industry, we decided to bring along a few inflatable boards, floating docks, and plenty of gear to entice participants in the show over to our booth.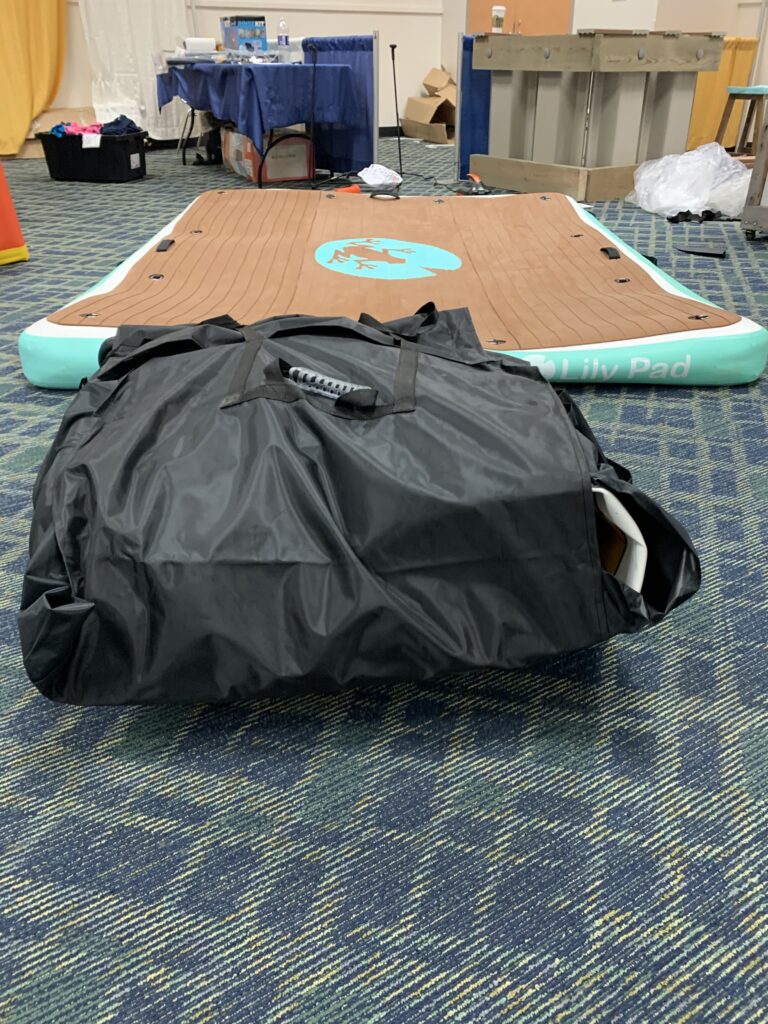 In case you are not aware, inflatable boards are a great supplement to any boating fanatic. They are easy to transport, durable and perfect to dump overboard in any body of water to reach beaches and tributaries otherwise impossible to reach on a boat.
As far as floating docks go, they are also a great way to increase your fun in the sun outside on your landing dock, up against your bulkhead, or as a party platform for any group looking to lay in the sun and have a convenient dock right outside their boats.
More specifically speaking, the Lily Pad and Gen 1 variation floating dock is a durable, marine-grade material that can float up to 1,000 lbs, will ensure you are worry-free when it comes to tears or holes, making it safe for kids to play on and in the water. In addition, it comes packaged with a high-speed hand pump and carry bag making for easy inflation and storage for when the season ends. Or, even better, check out our electronic pumps to cut the inflate times in half!
Normally selling for $949, our boat show special of $699 enticed new customers to the idea of adding a floating dock to the outside of their house or as an additional feature to inflate outside your boat. Measuring in at 8'4"x6'8"x8", this platform is the perfect combination of size and functionality. It works perfectly as a party platform but it not oversized where it is difficult to maneuver or store.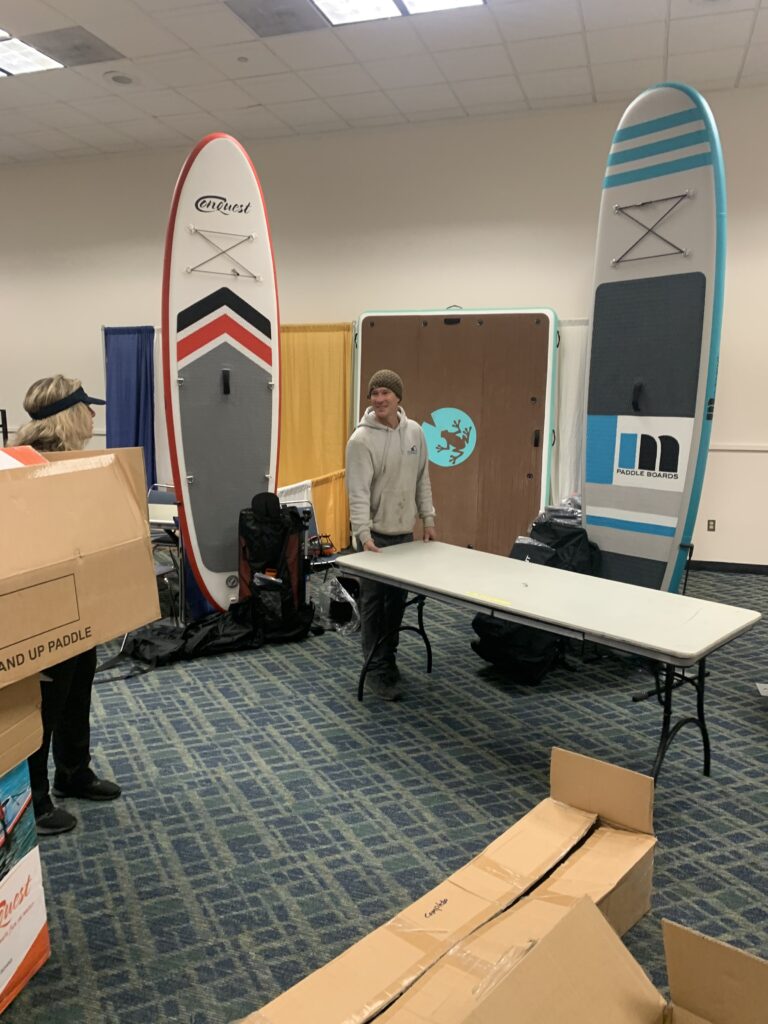 In addition to the floating platform, we also had plenty of Movement inflatables for sale. Our teal version which comes in at 10'6"x5" thick and the blue/lime edition which is an additional inch thick, came as a travel kit which includes a paddle, hand pump, and bag sold for $599 at the boat show but is normally $899. These boards were our best-seller in that they meet the perfect middle ground of price point and quality.
These Movement boards are incredibly durable due to their enhanced construction, allowing boat owners to easily blow them up and pop them overboard without the worry of damaging their boat or chipping and cracking a normal fiberglass or epoxy board.
And for the first time in 2020, Walk on Water debuted a brand new price point board called Conquest coming in at a boat show price of $399 which included a board, paddle, pump, and bag. For those looking to break into the sport without wanting to break into the bank, these are the boards for you! A heavy seller at the boat show, these boards give customers the perfect price point to indulge in a new toy without having to feel guilty spending too much money on something they may not be as infatuated with in the future.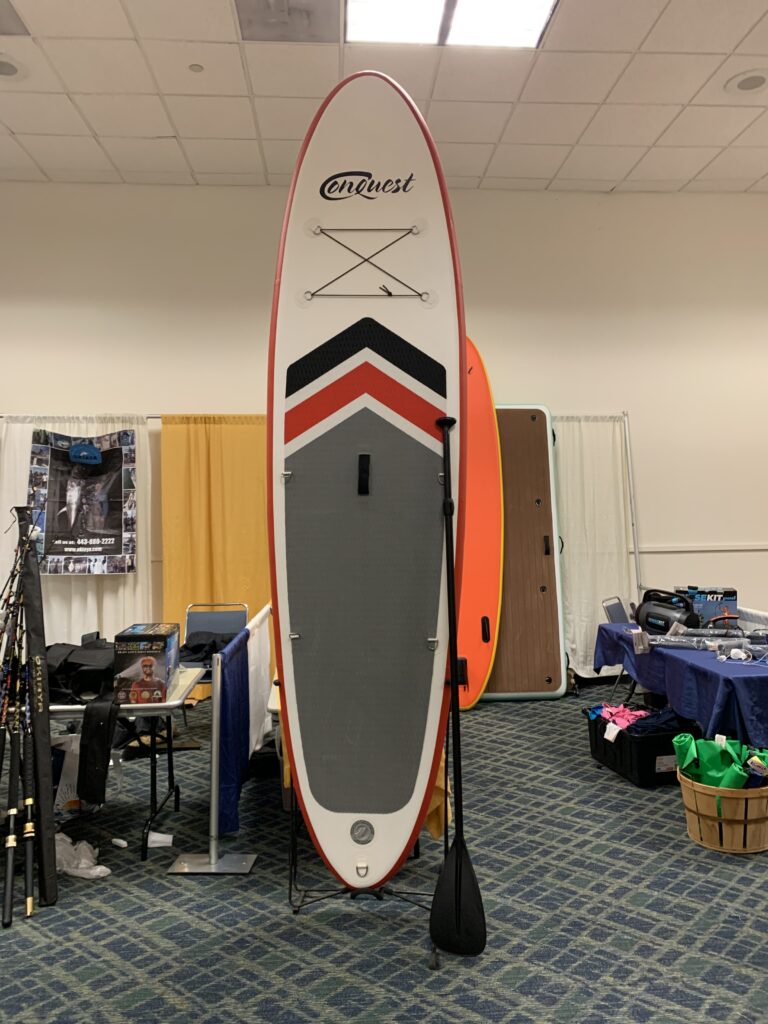 If these boards entice anyone just learning about them now, please contact Walk on Water immediately as we only have a few left in stock! Get your price point board and quench your curiosity by purchasing one of these Conquest boards today!
As the days wound down to the end of the boat show, the team at Walk on Water left satisfied with our new connections and additional sales getting new people into the sport and supplementing their love of the water by combining boating sports with SUP.
And with each new day, we inch closer to the spring season and the season of SUP. By attending the Seaside Boat Show we hoped we enticed people to get into the sport and get excited about the upcoming season. As always, Walk on Water is here to serve the eastern shore in regards to everything SUP and we cannot wait to see your smiling faces in our shop and out on the water!
So get excited! There is much more to come!